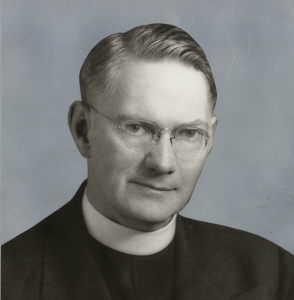 Fr. John Guy was born in Clyde NY January 30, 1897
Education: Clyde High School, St. Andrew's Seminary, St. Bernard's Seminary
Ordained June 9, 1923
Assignments:
Assistant pastor St. Mary's Church, Rochester  1923-27

Assistant pastor St. Stephen's Church, Geneva   1927-37

Pastor at St. Michael's Church, Montezuma and  St. John's Church, Port Byron  1937-1967
He was an avid reader with a wide range of literary tastes.  He liked philosophy and was often invited to speak in churches clubs and schools.
He chose to remain in the rural parishes where he spent the last 30 years of his life.  He enjoyed the peace and quiet of the country and his extensive library.
Retired from active ministry in 1967.
Died March 25, 1970 in Mercy Hospital, Auburn after a lengthy illness
Buried in St. John's cemetery, Clyde.
"He had a deep understanding and appreciation of what it meant to be a priest–he placed a value on the priesthood which colored his whole life." (Fr. Robert Kress, homilist at Fr. Guy's funeral)